I was absolutely floored and honored the other day to open an email from a client and friend, Dan Duncan who owns Small World Construction, and find a poem he'd written about his garden.
I've worked with Dan for about eight years now, creating four new garden areas in his home garden and maintaining them, as well as working with his construction company to do some beautiful collaborative work for others.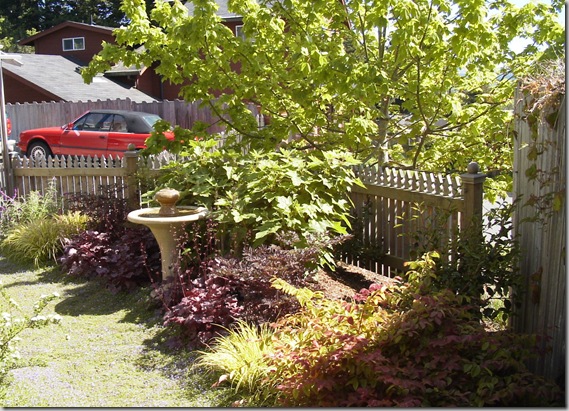 Dan gave me permission to post this excerpt from his poem:
My one maple tree was planted to
be the queen of the front yard.
Each year at this time she turns
yellow, then red, then brown.
Her perfect leaves
float downward, like feathers,
falling on the driveway, making
a dizzying unspecified pattern
as satisfying as can be.
In the secret garden lives
a princess, no kidding, that's its
name, no competition has this bush
for the best place and the best
view in the garden. Beside it
In the cottage lives my daughter.
The princess unloads her deep
blue petals shamelessly,
leaving the ground
at her feet full of her gaudy
prettiness, a blue without
peer in all of California.
I've been caring for Dan's gardens for so long that they feel almost a part of me, and to have them immortalized in poetry is a gift beyond compare. Thank you, Dan!
Want to see more of Dan's garden? See his front garden here.