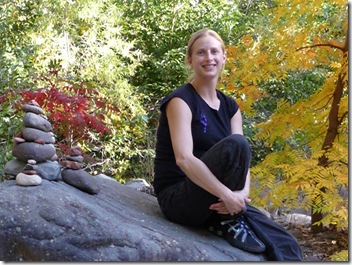 Hi there, I'm Genevieve Schmidt! I know that choosing who to work with can be hard sometimes, and the more you know about people, the easier it is to see who will be a good fit with your personality and your project.
I've been a passionate gardener since the days when my dad would have me water and weed our vegetable patch in the Sunset District of San Francisco. That early experience led me into horticulture school, where I graduated with honors after taking classes in plant identification, pest control, soil chemistry, tree pruning, general landscaping, and more.
At first gardening was just a really cool way to make a living, but as you know if you've gotten into it yourself, it quickly fires into an all-consuming passion and I found myself running from horticulture school, to jobs in gardening, to plant lectures at the SF Botanical Gardens. At night I'd prop my eyelids open for "just one more page" of Fine Gardening Magazine.
In my early years, I worked for a high-powered landscape design and maintenance firm in San Francisco, Pacific Gardens (boasting clients such as the owners of The Gap), and its polar opposite, the organic and spiritually-based Carlin's Gardens. I adored both. Because of that range of experience, I quickly became familiar with a wide variety of planting styles and gardening philosophies.
I began my career in landscaping doing fine maintenance, first in San Francisco and then in Arcata and the surrounding areas. It was all about the skilled pruning and care that lets a garden be its best.
After a few years, I became frustrated with maintaining professionally-designed gardens that had serious flaws – things you don't realize are going to be a problem until you're scratched for the third time that month by a thorny barberry next to a hose bib! So I began designing new garden areas, and suggesting minor renovations for my clients' gardens.  Because I often helped maintain my finished landscapes, it was like no other kind of artistic expression. Bringing living things together in stunning combinations that suit the architecture and the surrounding areas, and then getting to nurture them to be their best – it's a lovely feeling.
Now, I have a carefully trained crew of apprentice gardeners who help with the landscape maintenance, leaving me with time to design landscapes, consult with people who want to learn to care for their own gardens, and write for publications like Garden Design Magazine (where I'm a contributing editor), Fine Gardening Magazine, The Christian Science Monitor, and my own website North Coast Gardening. In 2010 I was appointed to Arcata's Design Review Commission, where I reviewed landscaping plans for commercial and historic properties to help keep our city beautiful.
When I'm not gardening, you can find me curled up with a book or running after my two toddlers. I keep three rowdy hens and two wickedly feisty cats, and my favorite food is cupcakes.
If you like cupcakes too, then I'm sure we'll get on brilliantly. Give me a call today at (707)822-2075 to set up a meeting, or email me your address so I can send you more information and examples of my work.
California Contractor's License Number: 986304 
We are fully licensed, bonded and insured.