"Genevieve… Super Heroine of Plant Buying…faster than a growing Podocarpus, more graceful than a Weeping Willow…. Thanks for all that you are doing… to make this a prettier place and adding humor and character to the journey." – Nancy Corral, Eureka
For Landscape Design and Consulting:
Emily Weber and Joanna Marcuz, Eureka: "What a wonderful experience it was working with you! We love how professional you  are, yet how warm and easy to work with you are too! Our yard looks beautiful. So excited for spring!"

Daniel Duncan, Arcata: "My front yard is filled with such beauty that I look at it daily with wonder." (Dan wrote a gorgeous poem in honor of his garden – read it here)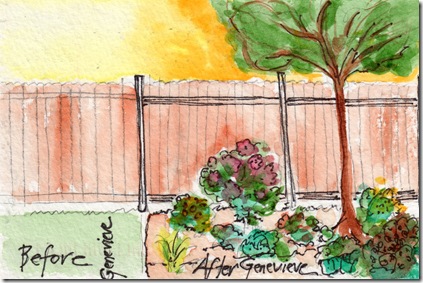 Nancy Corral, Eureka: "How does my garden grow? Very well with special thanks to you Genevieve! It has been two years since you designed my garden and I must say it has grown into a lovely palette of deep greens, bright whites, and iridescent purples that please the eye. I love to spend time in it pruning, watering and just sitting on my garden bench admiring the beauty of it all.

I made an investment in this garden and I have to say that that decision was a sound one. Without your professional guidance, I'd still be buying plants each spring that did not make it past a winter or two! Would I make this investment again? Absolutely. Thank you and I look forward to your garden mentoring as the days become longer, drier and warmer this spring."

(Nancy sent me the lovely watercolor postcard above three years after I designed her landscape!)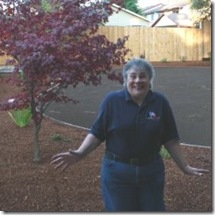 Robert and Judy Davis, Eureka: (My first photo testimonial at right – only partway through the installation and Judy was very pleased with the progress!)

Joyce and David Hayes, Eureka: "We are enjoying our yard so much more and wonder why it took us so long to do this. It is so nice to see the evolution of color and plants as we move through the first season of our new landscape. Thanks again for helping to make this area of our home so enjoyable."

Guy Joy, McKinleyville: "Genevieve, the experience of working with you – from your knowledge and passion for your field, your articulate communication about what you do, your sensitivity and consideration in determining what others need, your integrity, to the manifestation of your strong design talent, is to be encouraged, supported, and protected any way possible."
Doug Shaw, CEO of Mad River Hospital, Arcata: "It was a beautiful transformation, we loved watching it unfold and I was proud to see you and our staff complete it on time. Look forward to other projects. Thank you!"
Beth Leebolt, Eureka: "My across-the-street neighbor gave you a nice compliment the other day – she was looking at the yard while returning a toy her son had borrowed and she said "you know, she did a

really

nice job"."
Sabrina Knight, Eureka: "I have gotten so many compliments already, not because of the work I did, but because of your design. I would spend that money again and again, it was so worth it. I just couldn't believe the difference it made to have someone knowledgeable do the design – it looks so good!"
For Garden Maintenance:
Steve Moser, McKinleyville: "I'm not sure if it was your landscape plan or your ongoing maintenance or my good judgment in hiring you in the first place (you know me, I kind of think it was the latter) but pretty much every day I truly enjoy the plantings, spacing, colors, etc. here at my office."
Bill and Stephanie Ferguson, Eureka: "Just to let you know, all the neighbors said the same thing – your crew kicks ass! They worked their tails off outside. It looks wonderful and they did a very conscientious job. I am so glad you sent Chad and Daniel to us."
Sandra Jensen, McKinleyville: "You are such a pleasure to work with. I feel like God himself sent you to us."
Robert and Judy Davis, Eureka: "The only word I have is 'wow'. You did a great job – really looks wonderful. Thank you ever so much (and I don't think you charged me enough money!). If you ever want to tell anybody about your maintenance service or any of that, you just give them my number and I'll be sure to tell them how things are. Thanks again Genevieve!"
 John Somers, McKinleyville: "Thanks for giving my front yard a facelift (can you make me look 21 again?). It is an honor to do business with you. I absolutely love the work you do."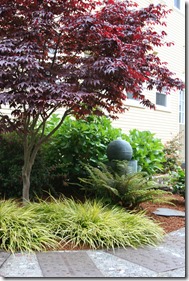 Nancy Corral, Eureka: "The yard work you did was perfect.  Everything looked so tidy…and better.  I do work out there but I think you have the magic touch…"
Irene Schultz, Arcata: "Thank you for doing such a wonderful job taking care of my garden. I treasure you and so appreciate your work."
Mary Kay Patton, McKinleyville: "The yard looks great. Your crew did an awesome job and they are such great people. I thoroughly enjoyed having them here!"
Gary Knudsen, Eureka: "Having a gardener has to be the the ultimate luxury. I like you guys more than bacon!"
Dan Duncan, Arcata: "You and crew are doing a great job around here. The gardens are a constant source of pleasure. They lift up my spirits (and I think everybody else who experiences them)."
Amy Stewart, Eureka: "It looks great! I pretty much just stand around collecting compliments about my front yard now. That's like my new full time job."